Come And Enjoy The Jester House Experience
 Jester House

is

Open
Every Friday from 10am till 10pm. 
  Hot Spots in the day are…………..
   10am  Get your morning coffee fix and enjoy a treat from the counter. Try one of our super special Portugese Tarts, a savoury muffin or one of the other ever changing delights we have waiting for you. There will also be fresh baked Sourdough Bread, made in the Jester House kitchen for your weekend bread needs. 
  12 Noon  Lunch.   The menu always has something new to tempt you with each week but we can guarantee that there will always be the super scrumptious Pan Fried Fish dish on as well as the Munch Brunch, for you egg lovers.
  3pm Afternoon Tea. Perfect for that afternoon pick me up or sharing a treat with the children after school.
  5pm  Quick drink after work? It is a nice way to relax at the end of the working week and we have a great selection on local beers and wines for you to enjoy and kick start your weekend.
  6.30 for 7pm  Friday Night Feast                                                                     Each week Dean creates an amazing 4 course dinner for you. It is easy as all the choosing is done for you and you just need to sit back, relax and this amazing dinner appears before you. It is $68 pp and bookings are essential.                                         If you are GF, vegetarian or pescatarian that is no problem, you just need to let us know when you book and we will customise the menu for you.
                       We look forward to seeing you at any time on a Friday.
Judy, Steve, Dean and the team.
           To Book for lunch or dinner just give us a call on 03 5266742                                                        or email us at lunch@jesterhouse.co.nz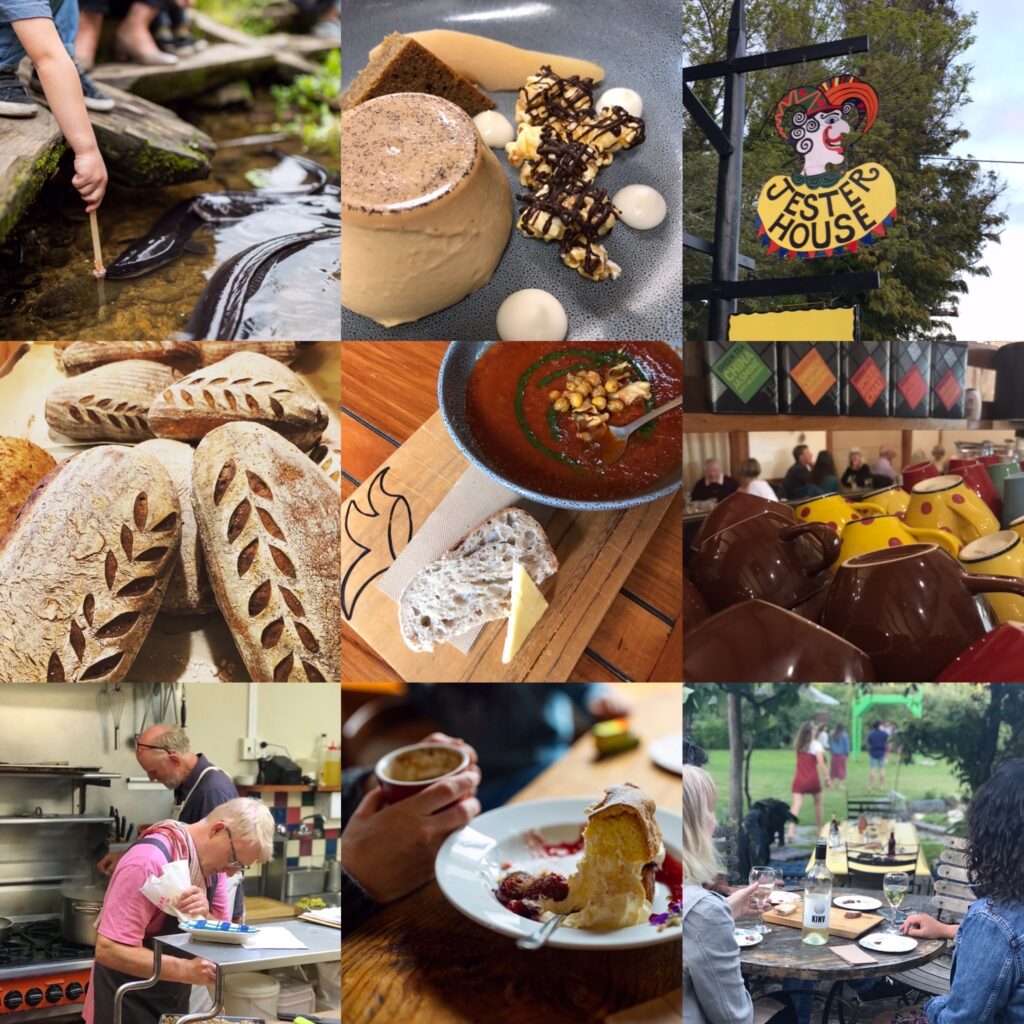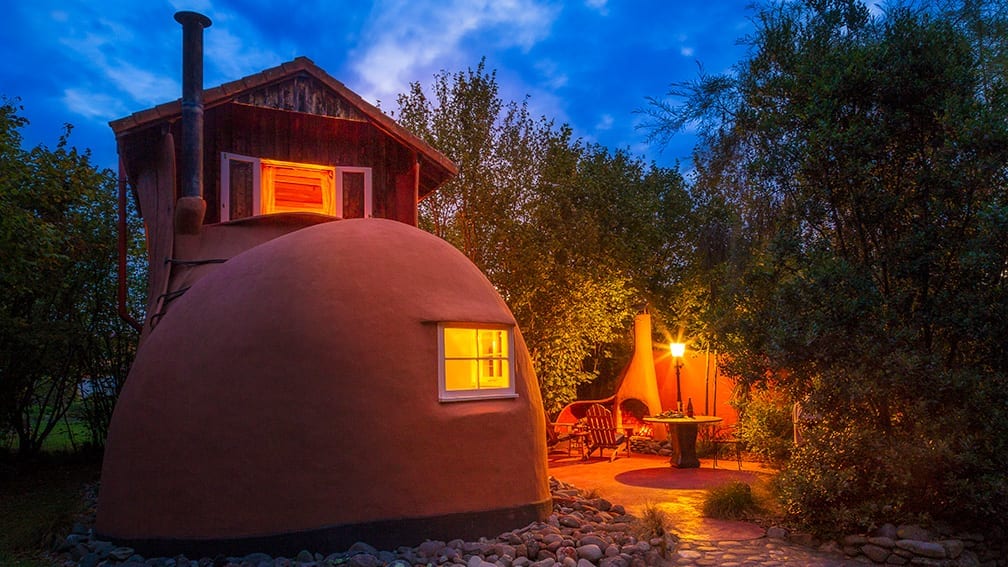 Enjoy A Romantic Getaway In Our World Famous Boot
  Inspired by the classic nursery rhyme, our Boot B&B offers a whimsical place to get away                 from it all. Giving you total privacy, and a truly unique experience, this is an                                                         accommodation not to be missed.                                                                      Click on the Learn More button for a comprehensive look                                     at what your romantic getaway could look like.
Eels! Fed em for 2 dollars! So awesome.Also had nice bread dipped in oil and a nuttyspice thing.Neat wood art.Good for kids and birds.
Leila Smith
04:28 10 Nov 20
Great family spot nestled with a secenic garden set as a beautiful backdrop to ones afternoon lunch. Lovely food and warm friendly hosts. Adventures to boot with the playground for the wee ones and an opportunity to feed the eels in the nearby brook. (A bit if a steep hill to get to the eels so watch your step).
Leilani Clarke
11:45 24 Oct 20
Fantastic place to relax with a coffee and sweet treat and enjoy the gardens and also super dining experience. Highly recommended
Gael Beattie
23:28 30 Sep 20
Nice place, especially for family with small kids. Plenty of attractions for children in the gardens, on top of it you can feed eels. Kids really enjoyed it.
Radek Taus
07:42 22 Feb 20
One of New Zealand's most iconic cafés. This place is an absolutely stunning destination on a nice day. The food is always fantastic, and the outdoor area is a destination in and of itself. Don't come here for food in a hurry, you'll want to stay a while and soak up the outdoor scenery. Always worth the detour off the highway.
Sebastien Voerman
20:26 09 Feb 20
An amusing cafe with charm and quirk. Here you can get a wide range of drink and food, send the kids off to enjoy the playset they have and if you want they will even give you food for the tame eels that live in the river.
Shadak Shademore
04:22 22 Jan 20
Lovely homemade food. Eels for people to see and feed. Wooden play grounds for children of all ages. Good idea to book a table for lunch can be very busy during the summer. Surrounded by fruit trees and bike stands.
Karen Cox
23:00 05 Jan 20
Meals took about an hour to come out - which was absolutely fine with us as it was a lovely day, and the garden provides such a nice atmosphere for relaxed dining. Best place for kids.
ANSO Family
23:19 01 Jan 20
Beautiful surrounds, lots from kids to do, excellent food and lovely service in a place with a lot of character.Kids enjoyed feeding the eels as well as things to explore and play on from swings and climbing frames to quirky pieces.Service was very friendly, patient, and they checked on that we had everything and were satisfied with things. It can get very busy and they will tell you a wait time if need be. So would recommend booking to avoid waiting.They have on site parking and link to the cycle trail and have cycle parking too.
John Barrow
03:56 30 Dec 19
Tasty food in a very cool and relaxing environment. The staff really understand hospitality and make you feel valued as a customer. Its worth taking the old road through Ruby Bay just to stop at the cafe and chill out.
Paul Aydon
00:52 28 Dec 19
This place is AMAZING and delicious. So many options from healthy salads to gluten free berry crumble cake with cream. Even if the food had been mediocre, I would come back just for the service. Ruby was so friendly and even offered to show us around the city. Unfortunately we are leaving town tomorrow otherwise we would have taken her up on it! Thank you so much for the lovely lunch and hospitality.
Alex Butler
02:23 07 Dec 19
Always love a visit to this local icon. Always on the list of places to take visitors. Always exceeds expectations and always delivers a great experience. Thoroughly recommend. Very family friendly. Very vegan and vegetarian friendly and delicious options abound. One of our favourite places to go.
David Eagle
04:48 18 Nov 19
What an awesome cafe! We loved the setting, the quirky and delightful installations and the overall feel. The champagne afternoon tea was superb. Never had better. Surprisingly good savoury, unbelievablely beautiful sweets and wonderfully warm and soft scones with cream and jam. Top that off with a glass of kiwi sparkling wine and a lovely cup of tea and it's a pretty much perfect way to spend an afternoon. Service was perfect with friendly staff members making sure everything was right. Can't go wrong! The Eels are very cool too!
Paul Bourke
06:14 10 Nov 19
Loads of quick little distractions for kids. coffee is well thought of.And for $2 you can feel feed the tame eels.
Wonderful place to stop for a coffee and relax for a while. Service was great and all staff very friendly. Definitely will come back.
Eva Celakovska
11:36 22 Oct 19
Wonderful atmosphere More than just a cafe Feeds you as well as your inner childChild friendly Loved feeding the eels bought back childhood memories
Melanie Boon
20:41 17 Oct 19
Amazing place for all ages ... great food and coffee ... but a place to regenerate a smile
Peter B Sykes
00:53 05 Oct 19
I stayed overnight at The Boot and breakfast at the Jester House was included. The food was terrific (two years later I still think about the chocolate cupcakes) and I fell in love with the eels! Truly an amazing experience.
Bec Harris
04:54 28 Sep 19
Interesting menu, good surroundings, feed the Tham eels
sydney Lo
04:34 21 Sep 19
Always a great place to have a meal when you are up that way but make sure you book ahead because it is so popular. Great variety of food and very family friendly.
Carolyn Ford
10:18 20 Jul 19
Fun ace to visit, just a few kilometers from Nelson on the Tasman road halfway to Motueka. Playground fun for the kids, a big show house, a la the Little d Woman Who Lived In Shoe. Story. You can rent the shoe house for a fantasy, is red weekend away. The cafe serves great food from a varied, but not too extensive menu, caters well for kids. (Our grandkids had a ball, running all over the place, chasing Henson, playing on slides and other play equipment, exploring the sculptures, playing games, dressing up, and feeding and stroking the huge eels that came right to the edge of the creek looking for food, which the kids fed them by hand off sticks.) The kid menus are good, the food was well cooked and served a la Carter in the garden or inside the restaurant. There was a pleasant selection of drinks, both alcoholic and otherwise, served by very friendly staff. We chose to eat outdoors in the beautiful Nelson sunshine. Well worth a visit to this magical place.
Keith Douthett
12:12 12 Jul 19
So much love and respect for the wonderful people running this café. They have a love for people and nature. You can't go wrong visiting. They've even inspired me to drop some poetry into this review based on my recent experience with them. "...and the fire of love is ablaze; and when the fire of love is ablaze, it burneth to ashes the harvest of reason."
Zane Melsom
01:09 11 Jun 19
Love this place. Been twice in a month since discovering it. Setting is great, so peaceful but also fun and creative. Fun for kids and kids at heart. Also super fun to feed the eels. Service is always good and friendly. Food is yummy and fresh. Their lemon cheesecake is devine! ? Had that both times I've been it's so yum, tastes like homemade. I will be back many more times I'm sure ??
Chrystal Oosthuizen
00:41 03 May 19
We went to an evening of entertainment with a buffet offering two courses. The food was far better than I expected for a buffet and the staff were very friendly an very attentive for such a busy night. This is a wonderful location for lunch as well.
Roger Fraser
22:28 05 Apr 19
We love visiting Jester house, great for kids, the food is always great and the service is friendly. We bring all of our visitors to this uniquely brilliant place. Thanks jester house
Steven Williams
03:46 31 Mar 19
The Jester house is one of the coolest cafes in Tasman. They have a bunch of games of the kids, great food, great service and great coffee. Located right on the great taste trail there is a stream running through the cafe grounds where you can even feed eels. This place is cool highly recommended!
David B-C
01:21 30 Mar 19
This was a very nice stop on our way from Able Tasman NP to Nelson and I highly recommend everyone to plan a stop here. We enjoyed delicious sea food, wine, good coffee and nice freshly baked cakes. The place itself has a lot to explore and is perfect especially for kids with the huge playground and the eels which you can feed. The outside sitting area is so relaxed and the local staff makes you feel at home. Thank you 🙂
Alexander Weigel
21:07 26 Mar 19
Charming garden surrounds, country-style setting, interesting menu, delicious food. Loved it so much visited twice during our too-brief holiday.
Maxine Shortland-Jones
04:44 18 Mar 19
Good coffee, excellent baking, fabulous oven roast wedges - all in a creative quirky setting!
Ola Hoelstad
03:15 01 Mar 19
We loved our visit to Jester House! The food was great and there was lots for the kids to do. Everyone loved their meals and the staff were fantastic! Our kids loved getting the eels too!
Jordan Benfield
04:55 01 Feb 19
We had the famous Jester House hash brown breakfast and it was fabulous. The wait staff are friendly and efficient and greet regulars like family. Highly recommend a magic place.
Jack Mitchell
06:19 27 Jan 19
A very pleasant couple of hours spent with friends. The staff were all very friendly and polite. I was delighted by the book swap. will drop some more in for you, the next time we are passing.
dave hender
09:43 24 Jan 19
Awesome. Always a great place to visit with the family and friends. Food was delicious! A local cafe that we visit often.
Daryl Combes
05:23 24 Jan 19
Extremely charming place with excellent food and friendly staff. There's even a great little playground for the little ones. And feeding the eels is obviously amazing. If your in the area do yourself a favour and stop by!
Holger Nahm
21:03 23 Jan 19
Here's where you come for unique experiences. Feed the plentiful eels, wander through the garden surprises and even stay the night in a shoe. Yep that's right a shoe! Or simple enjoy the cafe and country surroundings.
Anita Brown
18:29 12 Jan 19
Love this place. Great outdoor dining with plenty for the kids to do. Friendly helpful staff and tasty food...also Mussel Inn beer on tap!!! Bonus
Karina Amey
22:28 30 Dec 18
Lovely cafe, good food, great space for the family. Feed the eels in summer, explore the cafe grounds for fun with the kids.
Happy spot. Nice food in interesting surrounding. Suitable for all ages and a free meal on your birthday. Meet a happy 3 year old on his birthday.
Josephine Tucker
10:35 25 Nov 18
It's not just food but also a day out. The foods very organic and home grown you can taste the freshness. There is loads of thinking for young kids that keep them entertained for hours and eel feeding!
Daniel Rowse
00:28 17 Nov 18
What a fantastic place to go to drink coffee, eat and hang out with friends or just spend some time alone. Lovely setting beside the creek in amongst the trees. Very friendly staff who give efficient service with a smile. One of my favorite places 🙂
Kieran Mckay
21:09 17 Oct 18
Awesome awesome cafe with a difference. Love the composting toilet, unique garden and the eels. On the more conventional side the sandpit and playground is great. The food is delish. We pop in every time we are in nelson.
Aleisha Worthington
00:46 11 Oct 18
Loads of fun for kids & adults. A very magical place. Feed the eels for $2 and remind your toddler NOT to eat the food (raw meat) provided for the eels! Ha ha.
Excellent but because it is so popular sometimes the wait is lengthy! On a nice day a great outside setting...Family friendly & fun!
Diana Rainbow
02:34 26 Sep 18
Great place for food & coffee. Must do if you are in the area. Atmosphere, setting & service make it a place to visit.
Luana Hamilton
22:49 20 Sep 18
All good except spoiled by being charged an extra 50 cents for a cup of hot water, cold water makes my fillings painful. I had purchased a meal and coffee $ 27.00. Cold water is no charge and the only difference is the cost of heating a cup,of water, come on!I received a phone call to say they have reviewed and in future will not charge for hot water when coffee etc purchased, well done, so full marks on all counts.
Hilary Marks
00:46 05 Sep 18
My brief stop at Jester Cafe was absolutely 5/5. I can see why this place was NZ Cafe of The Year once upon a time. The 'Sushi Bowl' was an inspired deconstruction and so fresh. Many thanks to the staff who accommodated my needs (ashtray, speedy meal). Beautiful surroundings, great food and service. Thank you!!!
Ben Barrett
08:18 10 Mar 18